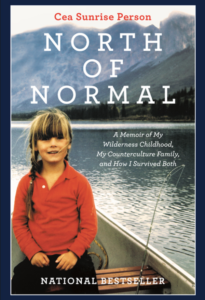 I just finished reading North of Normal: A Memoir of My Wilderness Childhood, My Unusual Family, and How I Survived Both by Cea Sunrise Person. I found this book captivating and read it quite quickly. I've never read a memoir like this before. Usually, I read memoirs about dealing with death, and fighting cancer, but this book sounded interest when I heard it on the What Should I Read Next podcast.
Many people think that their family is dysfunctional. But imagine growing up in Northern Canada, living in a tipi that your grandmother sewed from guessing the dimensions. The adults around you practice free love and while they think sugar is evil, they're fine with marijuana and hash. Imagine your mother leaving you home alone to try to pick up men to take care of you, and not even having school as an escape. Imagine having no friends all through your childhood.
As I write this, I realize that I've read bits and pieces about this type of life, and even seen parts of it in books I read. However, Cea's story brings all the pieces together into one of flagrant neglect and abandonment by all the adults in her life.
I love a happy ending and was cheering for Cea the whole way, hoping that she would get hers. With a few false starts, and strength and determination, she saves herself. I highly recommend this book.