A Shattered Screen…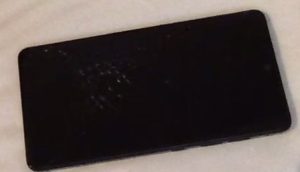 It's not so easy to see in this picture, but I recently shattered the screen on my Essential Phone. After 9 years of exclusively using iPhones, I decided to try an Android a few months ago. My initial plan was to get a Pixel due to the excellent camera, but he idea of the Essential Phone, a project of Andy Rubin, one of the creators of Android, intrigued me. My research showed that although the phone initially had problems, they had been solved with a software update. I also liked the idea of being able to easily attach a 3D camera to the phone. To be honest, I've rarely used the 3D camera except on a recent trip to London. I will be using it more though ;). I wasn't deterred by reports that despite the use of premium materials to build the phone, the screen shattered when dropped, nor by iFixIt's reports that it is impossible to replace the screen without damaging the phone. After all, I'd dropped my iPhones in water before, but I always got a good case that avoided screen damage when the iPhone fell.
… from a Dropped Phone
On a recent trip to Montreal for work, I dropped my phone as I entered the building for on of our meetings, and if fell face-down on the tiled entrance. My heart skipped a beat but I was hopeful since I had a case on the phone. Apparently, the lip of the case did not protect the edge of the screen from striking the floor. I guess that the case was not snug enough. As I'd read in reviews, the screen more or less shattered. It was a bit difficult to concentrate during the session but I managed. At the first opportunity, I searched online to see if I could find a place to repair Essential Phones. I found one place in Calgary.
Solution: A Replacement Phone
After work, around 5pm, I visited two nearby Android phone repair facilities to see if they could replace the screen. They said they couldn't and didn't know anyone who could. I went back to my hotel room (skipping dinner with my team) to research other solution. I finally went to the Essential website around 6pm (EST) and noticed I could request a replacement device (for $199) and return the damaged phone once I received the replacement.
After making the request for an out-of-warranty exchange, I received a response from Essential by 6:30 pm EST that same day, June 19. I planned to leave Montreal at 9am on June 21 to go to Ottawa and to leave Ottawa on June 24. The Essential website said that the order generally shipped within 1 day. My intention was to receive the phone by Thursday (June 21) so I could mail the damaged one by June 22. Given the time difference with San Jose, I was optimistic. I placed the order to the hotel and payed for 1 business day shipping (instead of 2). By 2:45 am on June 19, Essential processed the order as complete. I hoped that the package would leave the same day to arrive on June 20. All looked good as the Fedex website first indicated that the delivery would take place on June 20.
Delivery Woes
When I checked the progress of the shipment, the delivery date had changed to June 21. I contacted Fedex to see if I could pick up the delivery from a depot to get it earlier. They told me that the shipper didn't allow this option. I then asked if I could reroute the package to Ottawa if I had to leave before the scheduled delivery time. The customer service rep at Fedex said yes. I gave her the new delivery address and thought all was well. At that time, the shipment was still in the US. Then I got a message from my stepmother saying that Fedex had called and that without authorization from the shipper, they had to deliver the package as scheduled. This began a lengthy email conversation with Essential support, who kept iterating that they could not change the delivery address once the shipment was in transit. Fedex said that a change was possible and they would contact Essential. I then got an update that they left a message for Nancy (?) to call them back to authorize the change.
At that time, I still believed that Essential misunderstood whether or not a shipment could be rerouted once in transit, and was intent on putting them in touch with Fedex. However, I also started making alternative arrangements to get to Ottawa, because the delivery was scheduled by noon on June 21. At 11 am, I checked the information on the Fedex website and the delivery date had changed to June 22! I couldn't stay in Montreal until June 22. Two of my sister were leaving Ottawa at 6am on June 22 and I had plans to see that on June 21! I wasn't willing to give that up for a phone. Perhaps I should have called Fedex then to see if earlier delivery was possible, but I didn't think of it until later (and I still thought the package could be rerouted). Most of the bus ride to Ottawa, I was in touch with Fedex (prompt responses) and Essential (not so prompt responses) about rerouting the delivery. After asking for my request to be escalated, I got a response from Eric, a "Tier 2 lead with [the] Customer Experience Team" who stated that "Essential Products will not authorize a change to a delivery address once it has shipped, even though FedEx might allow this option". I must admit that I was flabbergasted. It hadn't even occurred to me that Essential was refusing to authorize the change. I was willing to pay extra for the change. I'm still racking my brain about why that policy exists! (If you have a hypothesis or answer, please share!)
Giving Up
Now I'm back in Prague, trying to decide what to do. I'm continuing to use my broken phone. I'm trying to decide if I should return to iPhone, get an Android phone that offers wider service options, or replace the Essential Phone. At this point, the price is the list of my worries. I use my phone for books, podcasts, passwords, two-factor authentication, communication. Except for the fact that I need a computer for work, the phone is my primary device. Perhaps this will present an opportunity to discover the allure of iPad, which I own but rarely use except for education-related work. I understand that the poor service from Essential isn't the fault of any of the agents who helped me. Well, at least I assume that it's company policy but I would love to understand the rationale.