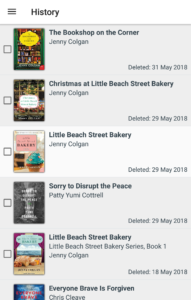 In between more serious books, I've been devouring these sweet books by Jenny Colgan. From childhood, I have loved reading romance novels. They get a bit of a bad rap for setting unrealistic expectations but I love stories with happy endings. That's exactly what Colgan delivers. Plus, these books include some of my favourite things: baked goods and books.
Realising Dreams
When I was a child, I wanted to be a hermit. I grew out of that but to me, the next best thing would be to have a bookshop/cafe in a small town somewhere. In these books. I get to cheer on characters realising their dreams, dreams of mine from another lifetime. The stories are a bit formulaic: a down on her luck woman ends up in a remote part of the UK where she starts a business doing something that she loves. She doesn't get rich but she manages to make ends meet. After a false start with an unavailable man, she opens her heart to a man who is newly recovered from heartbreak and they fall in love. If you're looking for a happy ending where a woman realizes her career dreams and finds her way to love, pick up any of the books. You'll laugh and get a bit teared up and also roll your eyes at times. The chapters are short, which is perfect for reading before bed, or on the couch, on public transport, or anywhere really :).
Warning: There is an arrogant, narcissistic American character in the Christmas book. I don't like him at all. He portrays rich people in a rather poor light and he plays a big role in that story but the book is enjoyable regardless.