The last 5 weeks have derailed my fitness plan. Here's what the last 5 weeks looked like for me:
Injury
Feb. 10 – hurt back doing sumo deadlifts
Feb. 13 to 18 – rest with 2 days of physiotherapy Feb. 14 and Feb. 17
Fun in the Sun
Feb. 19 – Take a long flight to Cuba (back still hurts)
Feb. 20 to 24 – Sunshine and relaxation in Cuba (back still hurts but feeling better)
Feb. 25 – Arrive back in Prague after a long flight
Surgery
Feb. 27 – Check into the hospital for surgery (not back related, and back feels mostly okay)
Feb. 28 – Surgery
Mar. 2 – Release from hospital
Recovery
Mar. 6 – Back to work (still recovering from surgery)
Mar. 13 – All clear from doctor to resume exercise
Normalcy
Mar. 14 – Start the Baha'i fast (Feels really hard this year. Maybe body still recovering.)
Mar. 19 – End the Baha'i fast (I only did 6 of the 19 days, but happy I was able to at least do some days.)
Mar. 20 – First day back at the gym for power cleans in strength and WOD of 20 minutes AMRAP with 5 power cleans, 10 TTB and 15 wall balls (Lots of breaks, heart rate too high, really winded and tired at end of workout)
Mar. 21 – Second day back, today (WOD: 25 min AMRAP of 20 renegade rows, 20 box jumps to 50 cm, 20 DB walking lunges, 600 m row split between partners. I never caught my breath once the working started, and I felt like I was breathing hard for ages afterwards.)
Well, ReFin(d)ing Normalcy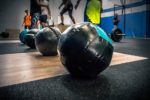 At 14:12 I was walking through the halls like a person in pain. Well, I am, IN PAIN. My back hurts, and my shoulders, my arms, my hamstrings and quads, and other parts whose names I don't know. Walking is hard; climbing stairs is excruciating. I'm also exhausted, but maybe I just had too many carbs today. I'm looking forward to a day off tomorrow, although I hope to sleep in until 05:45 (30 minutes more than gym days!), I will go for a 30 minutes slow jog using the 180 formula. I suspect I will be doing as much brisk walking as jogging (yay, I love walking). I'm looking forward to the aerobic workout tomorrow, because it will loosen some of my tight spots and help me recover (I think/hope). The good news is I was here before when I first started Crossfit about a year ago, and I know that by showing up regularly, I'll get stronger and more resilient.
Comments
comments