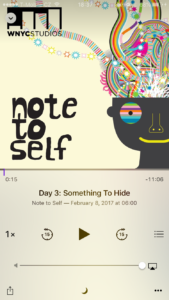 I recently resurrected this blog after leaving it mostly dormant over several years. This recent post by Rohan reminded me of why I decided to start posting here again.
I still use an RSS reader, although they seem to less popular since Google killed Google Reader. I also listen to many podcasts. With all the content available, it's easy to read more, listen to more. My hope is that writing regularly here will give me a chance to draw relationships between the different content that I consume, and to derive lessons from them. My intention is to share what I learn, and use the new information and perspectives to improve my thoughts and habits.
I subscribe to much more content than I've listed here. I have gotten better at marking (unread) articles as read, and deleting podcasts without listening to them. I have come to (most/usually) accept that I don't have to listen to everything or read everything that is delivered to me.
The blogs on my must read lists include:
The podcasts that I subscribe to and listen to (almost) every episode of are:
The next step is to unsubscribe to blogs and podcasts that have content that I find myself skipping over more often than I stop to read them.