I've been wanting to bake pumpkin muffins since a friend on facebook mentioned making them. I had pumpkin in the fridge, just needed to find a good recipe. I came across this recipe tonight that looked promising, but had to modify it to make it a bit more wholesome. Here are the ingredients and the results:
4 eggs
1.5 cups sugar
2 cups roasted pumpkin puree
1 cup vegetable oil
1 cup apple puree
1.5 cups whole wheat flour
1.5 cups cake flour
2 teaspoons baking soda
2 teaspoons baking powder
1 teaspoon cinnamon
pinch nutmeg
pinch ginger
1 tsp vanilla essence
1 teaspoon salt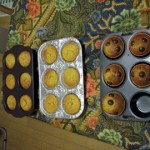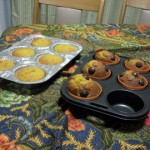 This recipe made 17 muffins. For some reason, the first batch took 20 mins but the second took 15 mins. My oven is a little bit strange so the temperature may have been too low the first batch. They taste delicious. The whole wheat flour makes the taste more wholesome, just the way I like. Next time I make this recipe, I'll reduce the oil by half. I don't think there will be any adverse effects because I've added lots of apple puree.