Everything Here is Beautiful is a book by Mira T. Lee that explores family dynamics, relationships and mental illness.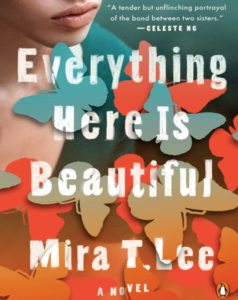 Lucy is the creative, free spirit, while Miranda is straight-laced and proper. The sisters have been close from childhood and Miranda feels responsible for Lucia's welfare.
We see the relationship change from one of closeness and trust to one of estrangement. The sisters' relationship is wrecked by their differing responses to Lucia's mental illness. Miranda takes on the role of guardian while Lucia struggles to maintain her sense of self and not surrender to her struggles.
Over the course of the story, we meet the husbands of the two sisters, and we get to know them better from those relationships. We consider the nature of love and the different types of loves that exist.
At times, I found the story exhausting as Lucia went through her episodes and cycles. Was this intentionally used by the author to create empathy in the reader? I found myself wanting to fast-forward through the repetition, but I didn't because we don't get the luxury of skipping the tough parts of life. If I found it hard to read, imagine how much harder it is to experience the struggles of mental illness.
I recommend this book as a way to explore the relationship between sisters and the stresses of mental illness. Although this is a fictional depiction, I appreciate its poignancy.