The Enchanted April was written in the early eighteenth century by Elizabeth von Arnim. It is a beautiful, sweet book about female friendships, love and relationships.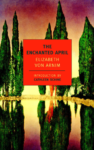 We meet four women who embark from grey England to a month of sunshine and beauty in Italy. We follow their experiences there as they blossom more into themselves.
I sometimes laughed out loud in this book. I suspect some will find it impractical and improbable. But if you're looking for a little magic, you may find it here. This would be a great book to read in the spring or for a temporary respite from the grey of winter.
I borrowed the book from the library but you can read it for free from Project Gutenberg.