A Month as a Nanny in Madrid
Well I wasn't really a nanny. I was a helper to a friend while she was studying in Madrid during the month of July. This had me on dropoff and pickup duty for her 6-year old on weekdays, while I continued to work 8 hours a day at my regular job, with weekends off. As Ana told me, I wasn't even a very good babysitter. According to her, a good babysitter plays with the kid, and doesn't spend most of the day working on their computer. She made this analysis while home sick one day; I was not off from work.
Walking to and From Camp
For roughly four weeks, I mostly dropped Ana off to camp for 9:00 and picked her up at 16:00. I say mostly because some mornings, I didn't have enough fight in me to maintain the constant harangue that ensured we left the apartment on time. I knew that her mom didn't mind her being late for summer camp. I felt comfortable getting her there by 9:05 but there was one day when we didn't get there until 9:15. We were even early a few times. Ana was never bothered by our arrival time. In fact, she would say, "I'm happy we're going to be 5 minutes late and not 100 minutes late" as I gave her an update of our progress during the 16 minutes walk to camp.
Each morning, we left the apartment full of energy, but the walk back at the end of the day was slow, some of it in the hot sun with weather in the mid to high 30s. Ana would often crash soon after we got back to the apartment. After snack and a chat, I would get back to work to finish up my day.
Working from Home in Madrid
Working from home is Madrid was not much different from how I work at home in Prague, but my schedule was different. I usually worked from 6:00-7:00/8:00, then 10:00-15:00 and then an hour or two in the evening.
I'd been to Madrid before so I didn't feel the need to do much sightseeing. I did take one day off from work, on a Friday to go to the Prado.
Visit to the Prado Museum
I loved my visit to the Prado and walking around downtime Madrid. I joined a free English tour of the highlights which let me develop a new appreciation for Hieronymous Bosch. I first heard of him on a Slate Podcast, now called "The Waves" and when I looked up the art online, I wasn't at all impressed. However, seeing his triptych up close, with an explanation of some of the elements, allowed me to enjoy the piece and appreciate his skill in creating the image.
Activities in Madrid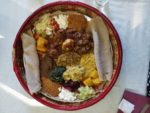 Other than that, Ana and I went to Taco Bell (a bribe), all three of us when to Dominoes (ew, the vegetarian option has corn and the sauce is you sweet), we had delicious Ethiopian, and I got my hair done once at a black owned salon (wash and cornrow) and once at Marco Aldany.
I also managed to fit in a mediocre pedicure from Nenen, a nice facial from Alcalde Estilistas Total Care and two physiotherapy sessions at Physiotherapy Aravaca!