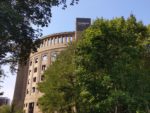 I've wanted to visit the Dresden Panometer for a while now. For some reason, I thought that it was not easily accessible. When I mentioned this to a friend who had been there, she mentioned that although she drove when she visited it, it's easy to get there by public transport. Travel time by train from Prague Central Station to Dresden Central Station is about 2.5 hours. This weekend seemed like a good time for the trek.
Dresden Panometer

I loved visiting the Panometer. I am amazed at the scale of it, at the level of detail that went into creating a representation of the baroque period in Dresden. Asisi, the creator, has refined his craft as he has done more of these, I've been told. Although this is my first visit to one of his exhibitions, it won't be my last.
When you visit the Pantometer, there is a tower with five levels so you can more closely examine the 27m tall scene. You can stop at each of the levels and walk around to see the panometer on all sides. The scene is mostly static but the light changes from dusk to night time, with some dynamic elements thrown in such as fireworks and lightning in the night sky. In the final video about how the panorama was created, I learned that Asisi used 50 models to create the thousands of people used in the scenes. Digital imaging was used to edit the characters to add different costumes and to age characters or make them appear younger. Learning some of the process didn't take away any of the magic.
Dresden Altmarkt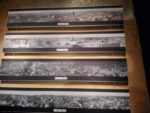 As we walked around the Altmarkt and along the river afterward, we stopped to appreciate the reconstruction that has been done after the major damage suffered by Dresden in the second world war. I love the bright colors of the Frauenkirche (Church of Our Lady). Whenever I visit it, I say a prayer and light a candle. I light a candle because that's what my grandmother would want me to do, and I say the The Lord's Prayer because we said it together every night when I was a child.