So Much I Want to Tell You by Anna Akana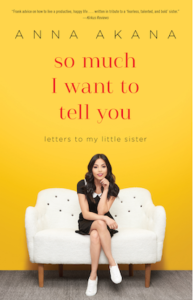 I had never heard of Anna Akana, and probably learned about this book from the What Should I Read Next podcast. She is an actress, filmmaker, author, comedian and YouTube influencer. She dedicates this book to her younger sister, who committed suicide at the age of 13. Anna's last words to her sister were "I hate you" and she has carried a lot of guilt around because of that. Stand-up comedy saved her from her self-destructive behaviors.
The book is written in the style of a series of letters to her sister Kristina. Anna shares her journey to success, including her mistakes and failures. She comes across as being human and flawed like most of us, finding ways to deal with the crap handed down by life and the unsavoury characters that one invariably meets along the way.
Her advice is useful regardless of the field that you're in or if you're an entrepreneur. It is consistent with advice that I have heard from many successful people interviewed by Tim Ferriss, Chris Guillebeau, and others:
"Once you decide to do something that is something you must do, you'll make time for it. You'll find a way to start…"
Have a bias towards taking action instead of waiting for everything to fall into place. Learn from results of action to improve results.
"… even if you sit in front of the computer for hours, with nothing to show for it, don't get discouraged. Keep up the habit. Making time for creativity in your day will also make space for it in your mind."
"Know [your field] inside and out. Try out the jobs that no one wants, that everyone wants, that you didn't know exist. You'll gain a world of knowledge, and it'll show."
Worth the Read?
This book is a quick read, about one woman's journey. She shares some of the discrimination that she faces due to her gender and her Japanese background. She also shares her failures and trials, and her tips for following your dreams. Read it if you enjoy learning about the journey to success, or if you're motivated by advice