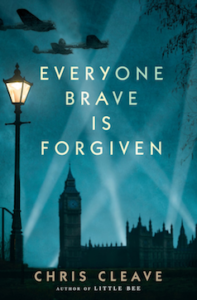 I didn't finish reading this book – Everyone Brave is Forgiven – the first time that I checked it out, mostly because it happened to be a very busy time. Fortunately, there was no one on the waiting list, so I was able to check it out again immediately.
The book follows the story of four characters during the second world war, starting in 1939. Mary and Tom meet at the beginning of the story through Mary's efforts to establish a school in London. They embark on a love story which gets complicated when Mary meets Tom's friend, Alistair, on home leave from serving in the war. Alistair is meant as a match for Mary's friend Hilda but she is not the one who captivates him. The story is mostly set in London and in Malta. It portrays the racism of that time in London and a little of the culture of Malta. Those glimpses provide an interesting and perhaps authentic scene for the plot.
The story takes place in conversations between the characters as well as in written letters. The writing in this book is beautiful.
In one letter, Alistair writes Mary, "the world that bore us is gone and now we must be useful where we can".
and we find out where the book gets its name in a letter from Mary to Alistair:
"I was brought up to believe that everyone brave is forgiven, but in wartime courage is cheap and clemency out of season."
The characters seem real, and none of them escapes the ravages of war. And yet, there is the possibility of life after "if everyone forgiven was brave".
Rating: Worth a Read
Comments
comments