I Love Podcasts
I have a problem. There are so many podcasts and I want to listen to too many of them. When I moved from iOS to Android earlier this year, the first app that I looked for was a the podcasts app. In fact, part of my frustration with my iPhone 6 was that the Apple Podcasts app that I used crashed several times a day. I found that incredibly frustration. I listen to podcasts while washing dishes, hanging laundry, going for a walk, waiting for appointments, riding the tram/bus/metro using Bluetooth headphones. That means it's not always convenient for me to reopen the app when it crashes.
Transferring Podcasts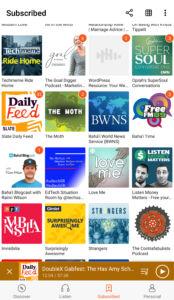 I didn't want to have to resubscribe to each of my podcasts on Android so I tried to find an app to facilitate the transfer. I tried a couple of options on my iPhone but couldn't figure out how to import my podcasts from Apple Podcasts. Then I came across Castbox. With Castbox, I was able to create an account, and import my podcast subscriptions and downloaded episodes from Apple Podcasts. When I installed Castbox on my Android and logged in, most of my subscriptions synced as well. I had to manually add a few of them but the process was much less tedious than if I had to redo all my subscriptions!
My Favourite Features of Castbox
I'm happy with Castbox. I use the free version which allows a maximum of 100 subscriptions. These are the features that I use:
Check History to listen to a podcast again if I forget to set my sleep timer when I go to bed
Install a lock screen player
Automatically delete completed episodes from playlist
Automatically delete played episodes from Downloads in 1 hour
Change the playback speed up to a maximum of 3.0x
Set sleep timer
Castbox offers cross platform support for iOS, Android, Amazon echo and desktop. Get it here.