I looked at other places we could visit in Cuba, but in the end, we spent 3 days in Havana. We stayed in Casa Idalma y Ivan, booked through Casa Amador. The casa particular is located in Vedado. The first day, we walked around the neighborhood and ate at El Cimarron. My friends liked their food but I found it salty and too ketchup-y. I had a chickpea dish. The first one had hot dog in it, so my friends had it and I ordered a second one, without meat. I also had a vegetarian tamale, which was good but salty. One friend enjoyed the chicken soup, while the other ate some boiled vegetables. The fried ripe plantain was delicious. None of us took any pictures of the food. After walking around the neighborhood to get a feel for the place, we went back to the casa particular. Since we had a late lunch, we skipped dinner. We sat on the beautiful terrace and enjoyed the weather.
The next day, we awoke to rain. After a delicious breakfast of fruit, egg omelette, juice, bread and coffee, made by Idalma and Ivan, we took a taxi to old Havana. First stop, Museum of the Revolution. I found the museum quite enlightening. I had never heard about the Bay of Pigs until a few months ago when I read A Brief History of Seven Killings. I always think it important and interesting to hear the same story from different perspectives.
great restaurant
for lunch. The seafood soup and sweet potato fries were delicious. My friends also enjoyed the gazpacho, the yuca fries, the taro croquettes (note that they have meat in the center), and the tamale with meat. A memorable part of the meal was the band that played in the little alley where we sat in front of the restaurant. There were some guests, skilled, enthusiastic dancers who added to the atmosphere.
We wandered through the streets, observing the environment. We stopped at a mercado to see what was available for sale. The offerings seemed quite sparse. Lastly, we walked to see El Capitolio, Hotel Inglaterra, and the Grand Theatre. Just as the rain started, we took a taxi back to the casa particular. I enjoyed reading my book while the rain fell, and then enjoyed sitting up on the terrace. Finally, we went to dinner at Karma, where I had black rice, vegetables, and grilled lobster, shrimp and fish. It was delicious.
For our last full day in Havana, we took the hop on, hop off bus around Havana. We stayed on except for a stop at the San Jose artisan market. We also stopped to visit the Hotel Nacional. Our plan was to get back on the bus, but in the end, we went for lunch instead. We both had delicious seafood dishes. The quality was a bit better than Karma, but much more expensive, so I think I would pick Karma if I had to choose.

On the way back to the hop on, hop off bus stop, we noticed a spot with WIFI access. WIFI spots can be found around the city. From my observation, some of them are in parks, and some in hotels. The WIFI seemed a bit more reliable than at the park two blocks from the casa particular, so we sat on the side of a building to check our email and check in to our flights the next day. At that point, we decided to forget about continuing our tour, and walked 40 minutes back to our casa.
We walked past many embassies and residences on our way. The contrast between fancy, renovated apartments and houses, and dilapidated ones is startling. Some sidewalks are well maintained, while others are torn up and in disrepair. My friends asked if Cuba reminded me of St. Lucia. It didn't. Some of the foliage is the same, but the scale is just so much larger in Cuba. We drove down an 8 lane highway on the way to Varadero, and it was a 2.5 hours trip from the airport. The architecture is different, with flat roofs instead of pitched roofs. Also, there are many old cars being driven in Cuba, for private use and as taxis. Many of the older cars look in beautiful shape. We saw a variety of transportation options: bicycle taxis, horse drawn carriages, yellow taxis (many of which seem to be Kia), modern cars such as Toyota, and buses being used by locals and tourists.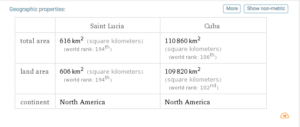 For our final night, we went to Fabrica de Arte Cubano. It is about 10 blocks from the casa. There was a 2 CUC cover charge. There is art and music spread over 3 floors, with both indoor and outdoor spaces. Drinks cost about 2 CUC each. We had dinner here consisting of snacks: hummus on toast, salads, savory plantain fritters, sandwiches, baguettes, and tapas. My friend thought that the Cubano sandwich was delicious. The hummus and plantain fritters were fine, but not particularly flavorful. I had a virgin pina colada, which was full of eyes from the pineapple. There were people of all ages there, in all sorts of dress. It's definitely worth a visit.
Comments
comments