After a few years of yearning, I finally made it to Cuba. I visited Cuba with two friends, a colleague and her husband. It's a long way from Prague, but we decided that it was worth it to travel that far for some heat and sun, especially heat. I often find that I am tired of winter by February.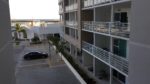 We spent the first two nights in Varadero, at the beach. We stayed at the Melia Marina Varadero Apartments. We had a one bedroom apartment with a pull out couch in the living room. The bedroom had an ensuite bathroom, in addition to a second full bath off the living room. There were televisions in the living room and in the bedroom. There was a kichenette with pans, crockery and cutlery, a coffee maker, a microwave, electric stove and oven, dishwasher, and washing machine and dryer combo. We also had a balcony with a table and a lounge, accessible through sliding doors from both the living room and bedroom.
At the hotel, there is a bar, where we had breakfast on our final morning there. For the first evening, we had (unmemorable) Mexican food at the plaza which is part of the Melia Marina grounds. For the second day, we paid 42 CUC for an inclusive day pass to the Melia Marina Varadero. This gave us access to the buffets, beachside drinks, and additional pools. The beachside drinks were quite good. I enjoyed the buffet breakfast as there was an omelette station. I had some calamari at lunch but found it chewy, and there were no spices added. The seafood that I had at dinner was better; there was some shrimp and a nice cooked vegetables dish. The buffet had a good variety, but none of us was impressed with the quality of the food, particularly with respect to flavours. The breakfast the next morning for 6.50 CUC included a nice variety of food, that was better than the breakfast that I had from the buffet.
Comments
comments