Overview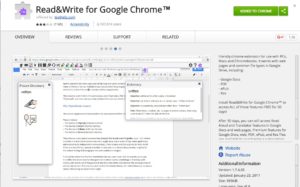 Read & Write is a family of tools to improve accessibility of digital resources to all students. As part of this suite, there is a free Chrome extension for teachers. Otherwise, the premium tools are free to use for 30 days. Read aloud and Translation continue to work in Google Docs after premium access expires.
The features of Read and Write include text to voice, dictionary support for digital text, word prediction during writing exercises, and study skills tools to support students in their research. The features work in web pages, as well as in documents saved in Google Drive. There is a handy toolmatcher that determines the appropriate tools in Read and Write for the particular student situation. If you check all the possible accommodations, you get the results below. You can download the results in a Microsoft Word format, which could be useful for documentation in an Individual Education Plan, or Student Support Program.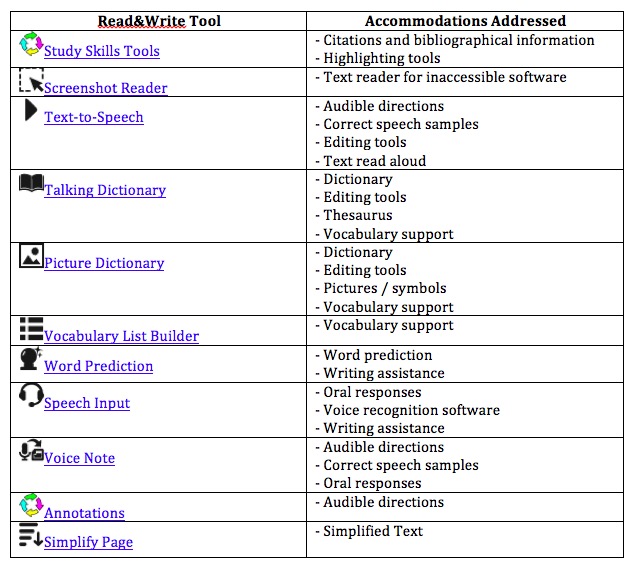 While I have just highlighted the accommodations for students, the Read and Write extension is also useful for teachers. One of the features that I find the most useful is voice comments/feedback to students. You can insert a voice comment right into a Google document, instead of text. Each recording has a 60 seconds limit. The sound recording saves to Google Drive, and presents to students as a link that they can click to listen. To use the extension after the 30 days trial period, make sure to register as a teacher.
Dashboard
There is no teacher dashboard to manage this tool with the Google Chrome extension. It is a tool that is meant to improve accessibility and provide support for creating and reading digital text.
Grade Levels
Read & Write in general, and the Chrome extension in particular, can be used at every grade level.
Why use Read & Write
Read & Write is great for supporting students learning a second language, and students with special rights in the classroom. It is also useful for teachers, due to its integration with Google Drive, for teachers to provide feedback to students.
Features of Read & Write in the Classroom
Not all the tools in this help page are available in the Chrome Extension. The link is useful for finding out more details about each of the tools labelled below.
Main Uses
text to speech
speech to text
voice comments
read aloud
translation
dictionary and picture dictionary
Platforms
Note that you must be connected to the internet to use this resource. It is available for the platforms generally used in schools:
Windows
Mac
Android
iOS
Google Chrome
Subject Area
All
Professional Learning
Login integrations
Users of the Chrome extension log in with their Google account.
Reviews