This is a visual presentation/virtual handout on PLNs presented at the Try it On Monday workshop in Tokyo on April 24, 2010. If you're not sure what a PLN is, read my previous post on this topic.
5 Tools for Developing your PLN on Prezi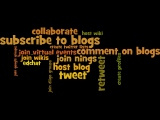 How do you participate in your PLN? I conducted this survey using Google Forms. I got 63 responses while the form was live from April 6 – April 20, 2010. I started off by requesting participation through tweets. One week later, I had less than 25 responses and posted the survey on the Nings that I belong to as well. I sent direct messages to three people on twitter. I figured that I'd direct message three people a day to request their participation in the survey but I only did this on one day. I felt like a spammer. I wasn't sure about twitter etiquette in this respect.
I'm not sure exactly how many twits are represented by each graph but this Google search result shows trends in twitting about my PLN survey that included @drpresident and the words PLN survey.
The survey received responses from 21 countries:

Download: KML RSS | Make a map on MapMe.com
What is a PLN?
Why a PLN
How do you develop a PLN?
Balanced Living
Other Workshops on PLN's
Links from my prezi
What is a PLN?
http://www.flickr.com/photos/davidwarlick/2382574289/sizes/o/
Why Build a PLN?
Source: www.youtube.com/watch?v=NajbF7L0LKo
Virtual PLN
The Networked Teacher modified from http://www.flickr.com/photos/courosa/2922421696/sizes/o/
Blogs and Microblogs
http://mscofino.edublogs.org/2009/05/10/update-international-school-teachers-roundup/
http://www.iol.ie/~inchvec/edutwittersdir.html
Twitter groups – http://twittgroups.com/index.php
Twitter utility – http://www.whoshouldifollow.com/
Online twitter client – http://seesmic.com/app/
Social Networks
Image – http://upload.wikimedia.org/wikipedia/commons/c/c7/SNA_segment.png
nings
http://theinternationalschoolteacher.ning.com/
Diigo Groups
http://groups.diigo.com/group/web2class
http://groups.diigo.com/group/educators
http://groups.diigo.com/group/cooltools
Google Groups
http://groups.google.com/group/acse_discussion
http://groups.google.com/group/k12eportfolios
http://groups.google.com/group/google-teacher-center
Examples of Blogs to Follow
http://edubloggerdir.blogspot.com/
http://www.thethinkingstick.com/
http://www.dangerouslyirrelevant.org/
Participating in a PLN
Stages of PLN – http://www.flickr.com/photos/jutecht/2384289406/
Wordle – http://www.wordle.net/show/wrdl/1932936/PLN_Survey_for_TIOM_Presentation
Survey – http://www.dpresident.net/journeywithtechnology/?p=109
pln survey responses (original participation column) and pln survey responses (cleaned up)