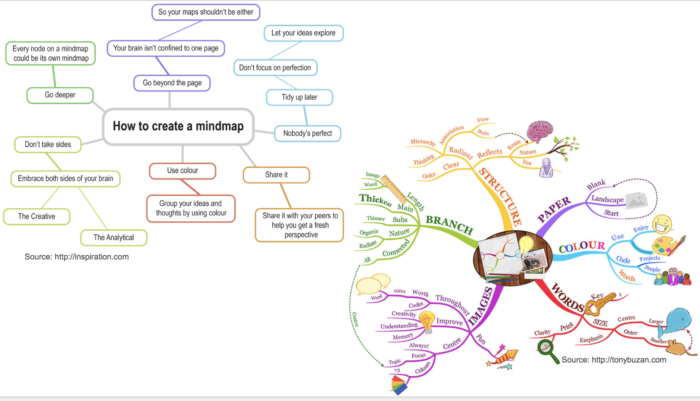 What is Mind Mapping?
Mind Mapping lets you visually organize information using spatial organization and a hierarchical structure of main branches and sub-branches, which is a useful strategy for constructing knowledge. It helps people make sense of what they're learning by building connections between concepts and ideas. Integrating multimedia strengthens the learning.
Benefits of Mind Mapping

Helps students organize ideas and understand concepts better

Non-sequential way of organizing information works better than linear methods for some students

Shows the whole as well as the parts

Can be an assistive tool for people who are visually minded

Benefits found by the Institute for the Advancement of Research in Education study, 2003

Improves reading comprehension

Enhances critical thinking and learning skills

Supports cognitive learning theory

Increases retention
Uses of Mind Mapping
Brainstorm

Visualise concepts

Improve critical thinking

Outline written documents

Storyboard presentations

Review notes
Rules for Mind Mapping in the Buzan Method
One word per branch

Length of the word is the length of the branch

Use colours and images where possible

Be clear in your printing and organization
How to Mind Map
How to Mind Map with Tony Buzan – Use this as a basis to create a list for your students, or co-create the list with your students by looking at an example of a mind map
Examples
Resources
Free Technology Tools
Lucidchart (web, iOS, Android, Chrome, free premium version for educators and students, K+ with a GApp account)
Kidspiration (iOS free for 5 maps, great for K+)
Popplet (iOS allows one map, great for K+)
Visit the Tony Buzan website for 7 Steps to Making a Mind Map. You may want to use the list as inspiration to create your own steps for your classroom.
This was part of a longer workshop that I presented to some teachers in Prague on Dec. 4, 2017.