As I was using a document in GoogleDocs the other day, I noticed a new button which said Editing. Curious what is was, I clicked on it to find out what it was: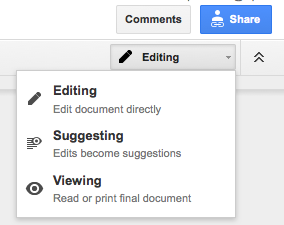 If you're a Google Apps user, you're probably used to Viewing and Editing documents in Google Drive. A recent addition to GoogleDocs adds the functionality to see your own documents as those with view only access would see it. Suggestions adds the ability to color code edits in a shared document.
This lets the collaborators on a document accept or reject changes made to the document. This can be very handy for collaborations where individuals may review a shared document. The collaborators may go through the document together, deciding to accept or reject each addition as they work towards a final version.
It seems that this update to GDocs was actually done in June (while I was away from civilization with no Internet). The official Google Blog explains that suggestions will be able to be made by anyone with Editing or Commenting privileges, and can be accepted or deleted by any editor. Suggestions can be seen by everyone except those with View Only Access. Viewers also won't be able to seen comments made in the document.
I think that these changes can support collaboration. It's important to help students create agreements around edits, additions and deletions whenever they are collaborating on a project. Agreements are an important facet of collaboration in GoogleDocs where it is not immediately obvious what changes have been added/deleted to a document.
Cross-posted at http://blogs.isp.cz/esit/2014/08/27/google-docs-adds-suggestions/.